If your customer would like to exchange what he bought with a new product, you could perform the exchange action on the page Point of Sale >>> Sales history. The instructions below show you how to perform the exchange on a computer.

First, you would need to find the original order. You can use the search box, order status, and date range to filter the sales orders. If you have a connected barcode scanner and the receipt, you can also scan the barcode of the receipt to quickly open the invoice.

Second, you can click on the sale number, open the order and click on the EXCHANGE button on the window slide out.


Or you can click on the Exchange link in the order list.

These operations will lead you to the screen of Process sale. As shown in the screenshot below, the product(s) in the original order have been added to the sales cart, and the quantity is negative.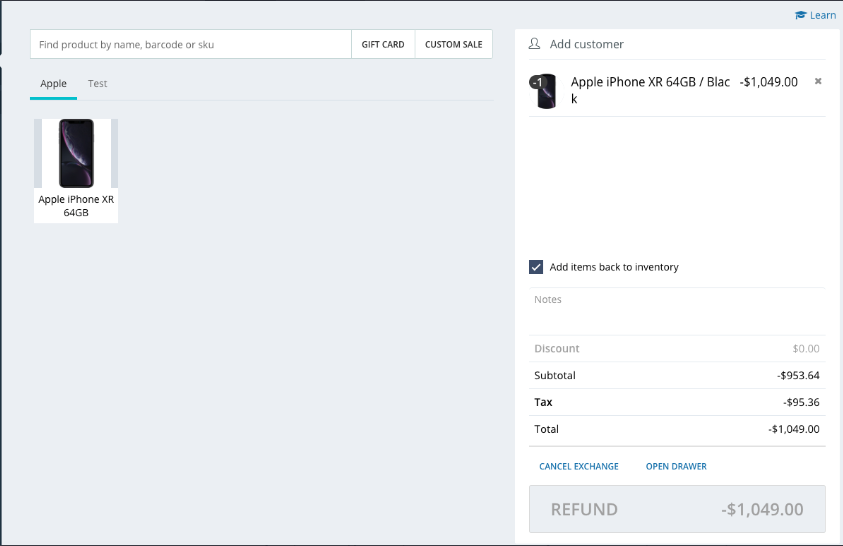 Third, you can remove the products that you don't need to exchange from the sales cart by clicking on the x button of the line item. You can also change the quantity of the product by clicking on the line item and changing the quantity in the window slid out. Moreover, you can choose whether to put the items back to inventory.

Last, you can add the product that the customer wants to exchange for in the cart and complete the sale.

Hike will calculate the difference between the prices and let you know whether you should refund or pay the difference. You can then click on the green button to complete the exchange on the next page.