Switching Outlets & Registers on PC/Mac
Switching between multiple Outlets and/or Cash Registers on PC/Mac is a simple process. You will need to have an internet connection when switching it.

First, please navigate to Point of Sale >>> Cash register from the menu on the left.

Second, on the Cash register page, please click on the "REFRESH DATA" button on the bottom left.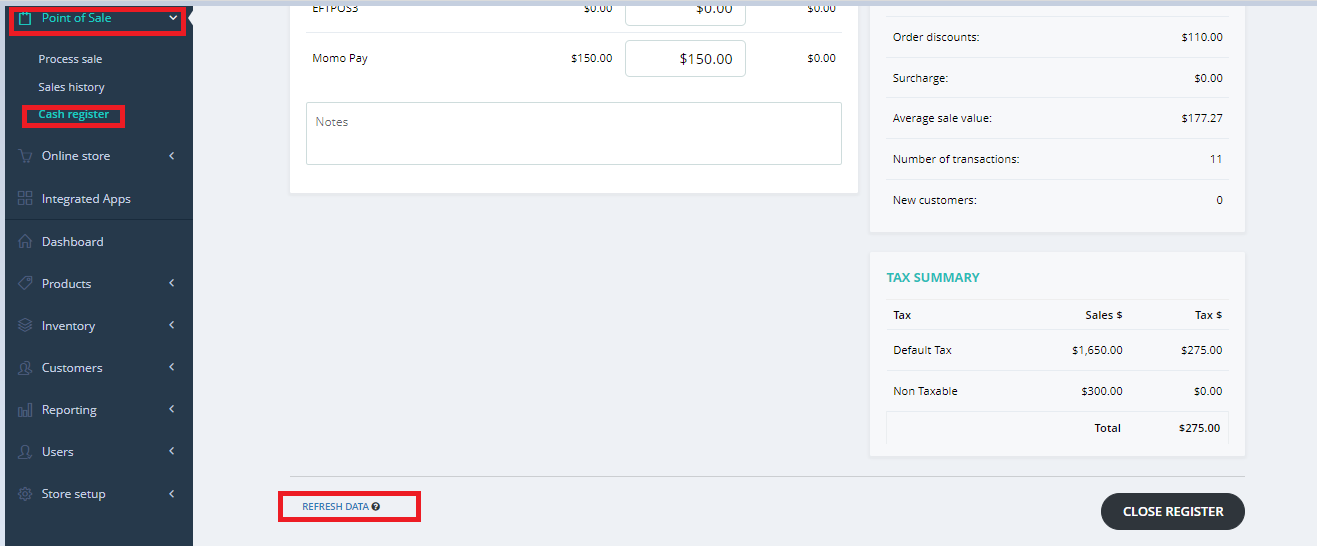 You will then get the confirmation window popped up. Please click on "Continue". Please note, if you had any missing sale, please do not perform this step unless having got confirmation from our support team.

Last, in the window slid out, you can switch the outlets and/or registers.


Related Articles

Switching Outlets & Registers on Hike's iPad POS

Switching between multiple Outlets and/or multiple Cash Registers, with Hike's robust iPad POS is a streamlined, and simple process. First, draw up the Hike menu by clicking on the hamburger icon (☰) on the top-left of the screen and select Cash ...

Adding Outlets & Cash Registers in Hike

For many businesses, either new or existing, the need for scaling can quickly become a priority. Turning one Outlet into potentially a hundred, or even just expanding the operations of an existing store to add more Cash Registers, are some of the ...

Configuring your Star TSP100 USB for PC / Mac Use.

The Star TSP100 USB Thermal Printer is for use for USB compatible devices only. This means PC or Mac computers only and does not include iPads. Before you can continue though, you must ensure that in addition to your printer and USB compatible device ...

Switching User IDs on Hike's iPad POS

If your store has more than one staff member, working in various capacities, it's imperative that your iPad POS can switch between users in an instant. This allows your business to keep moving, even as employees change over. Fortunately, Hike's iPad ...

Exchange A Completed Sale on PC/Mac

If your customer would like to exchange what he bought with a new product, you could perform the exchange action on the page Point of Sale >>> Sales history. The instructions below show you how to perform the exchange on a computer. First, you would ...