If you have been wondering why inventory numbers for products in your Hike Store are different between On Hand and Available Stock, this can be caused by Committed Stock.

Committed Stock refers to inventory which has been sold or assigned for stock transfers, but have yet to leave its current outlet/location. Committed Stock cannot be cleared without closing or removing the associated sales orders/stock transfer so please keep this in mind when managing your sales and product inventory in your Hike Store.

To find products with Committed Stock, go to the Hike Store's Inventory -> My Inventory, and sort by Committed as shown in the screenshot below.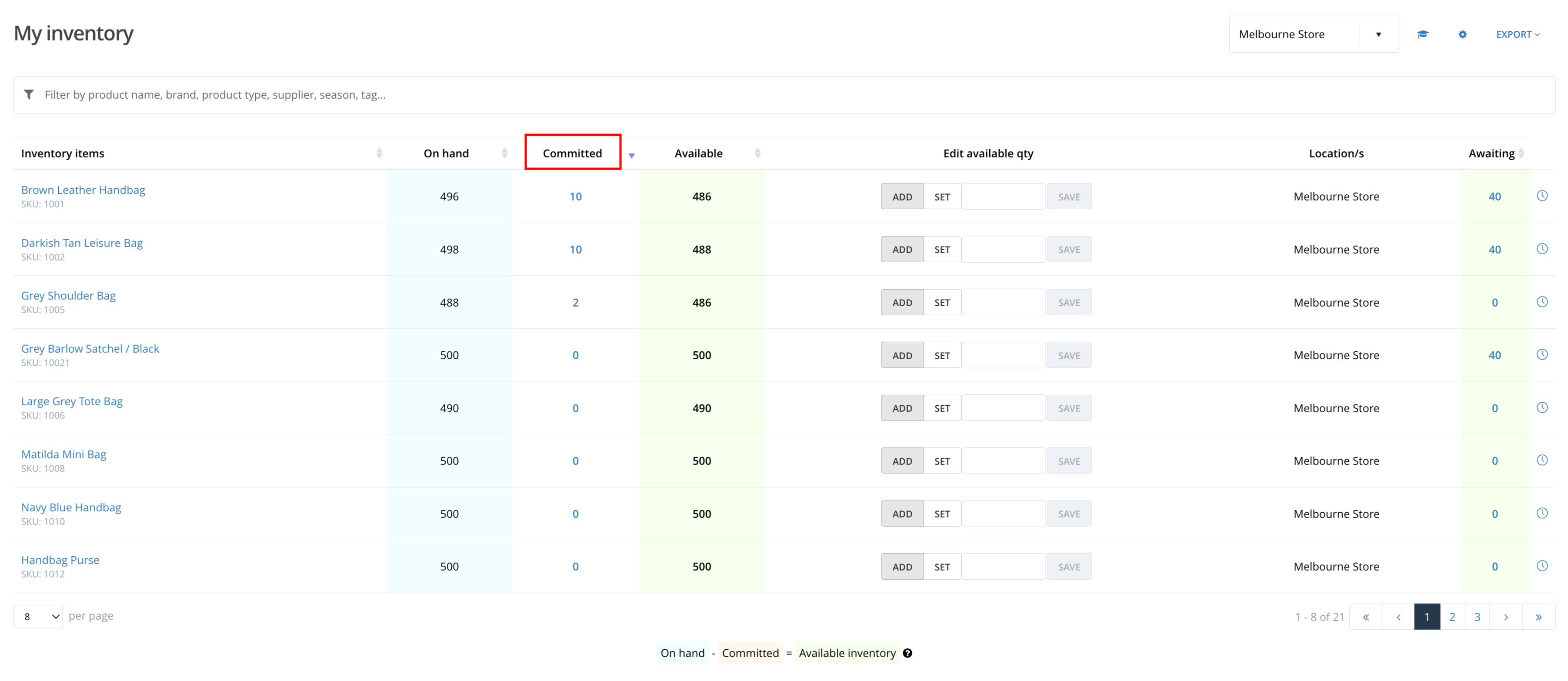 Here are some examples of what will assign Committed Stock in Hike and how to clear Committed Stock:

1. Parked/Layby Orders
- If a customer has brought 5 items of Product 'X' to the counter but wants to then go shop for extra items, a cashier can
Park the order
. This means that the 5 inventory of Product 'X' is now assigned as Committed Stock. You can find Parked Orders in your Sales History and you can then either update the
Parked order as Completed
or update the
Parked order as discarded
which will then clear the Committed Stock for Product 'X'.

2. Paid Orders that are Awaiting fulfilment
- If a customer has already paid for an order of 2 items of Product 'Y' but hasn't collected the product from the outlet (example: large items such as furniture which requires special pickup), or it is an online order which has synced to Hike but has not yet been shipped from the outlet, then the order may be marked as Awaiting fulfilment, which will assign the inventory from the order as Committed Stock. You can check these Awaiting Fulfilment orders in your Sales History and
mark them as complete
which will clear the 2 items from Product 'Y' from any Committed Stock.

3. Stock Transfers that are Pending
- If you have multiple Outlets in your Hike Store and you make use of the
Stock Transfer
feature, you can create stock transfers to log the inventory movement of products between your Outlets. If you create a Stock transfer for 10 items of Product 'Z' but the stock hasn't left the outlet yet, the Stock Transfer will be marked as Pending and the items will be Committed Stock. You can check the status of any existing Stock Transfers, and open the pending Stock Transfer to
Mark as received
or
Delete the Stock Transfer
which will then clear the Committed Stock for the 10 items of Product 'Z'.

Checking the Product History for a particular product can also assist you finding out which Sales orders and Stock Transfers have adjusted inventory for that product. More information on how to check the
Product History can be found here
.