The My Account section allows you to manage the administration of your Hike account, including purging, or permanently deleting, data from Hike.

MY ACCOUNT

As you will see, there are significant changes that anyone with Admin access can make to your Hike account.

We strongly suggest you take this into consideration when deciding which staff will have Cashier, Manager, and Admin access.

On the My Account page, you can view the Purge Data section.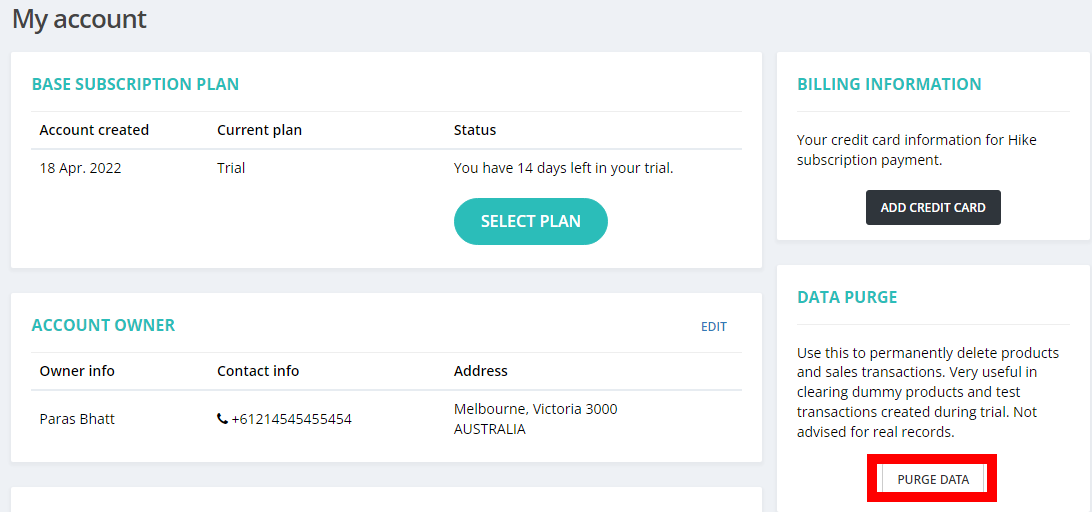 DATA PURGE

Use this to permanently delete your products, sale-related data, customers, suppliers. Mostly used to clear test data created during the trial period. Not advised for actual transactions. Also, please note that it won't help in case you would like to clear all the data and bring it from a third-party platform. If that's what you want, please contact our support team before taking the action.

IMPORTANT!!! Once purged, selected data will be removed permanently. This operation cannot be undone.
To use this function, follow these steps:

Click on the PURGE DATA button

A window will open where you may tick a box to specify which data you wish to delete. You may choose more than one of the following:


Delete sales records created by


This operation will delete sales transactions created by selected user/s. It will also impact relevant records such as shift report, end of the day totals & customer transaction history.

We have also added a date range which can be helpful to purge the data for a desired time frame. You can select date range as per your requirement including the Custom range.



Revert inventory change related to sales transactions

This is useful if you have performed dummy transactions to learn the software and now wish to undo all inventory changes that happened due to those sales transactions

Delete all products and related records




Delete all products and related transactions such as sales, inventory, purchase order and customer order history.


Delete customer records


Delete all customer accounts and information.


Delete products


Clear all your products information.


Delete gift cards


This will delete all gift card transactions including those with available balance. We suggest printing out a gift cards balance report for reference and verification before you delete these data.


Supplier and Purchase orders records


Delete all supplier profiles and Purchase orders.



Click the PURGE SELECTED button to continue
A pop up window will appear with two options



Click the CANCEL button to prevent any changes, or

Click the CONTINUE button to permanently delete the selected data

If you clicked CONTINUE button, your data is now permanently erased with no option of recovery.

If you do require recovery of your records, Hike staff can not guarantee all records are recoverable, and may charge a fee for any records that can be recovered. This would be discussed on a case-by-case basis.