Welcome to Hike!

Hello and welcome to Hike POS!

We're glad to have you on-board and hope you find our support portal easy to use and able to answer your burning questions. Of course, if you have any questions that you can't find an answer to on here, please jump into our 24/7 live chat support line, where our bright-eyed support staff will respond to you in minutes!

You can hop directly to our chat support, by clicking on the Need Help? bubble, located at the top of your Dashboard.

Here, we'll go through some of the more basic steps of starting your free Hike trial and setting up your Hike account.

Rest assured, you're in great hands and your free 14-day trial gives you full access to all of Hike's wide-ranging suite of features!

Thanks again for joining Hike!

Note: If you wish to use Hike as your preferred POS solution, you will not have to recreate another store as your trial account will become your active account. Certain data can be purged, but the information set-up upon installation will be carried to your functioning, live paid account.



Creating Your Free Hike Trial Account

To begin your free trial with Hike, visit our website:

Once you've reached the sign-up page, you'll be asked to complete the following information:

First name & Last name

Email Address

This is the email address that you will use to login to your store, reset passwords and send invoices (once you have subscribed)

Phone

City

This is where your first outlet is located.

Password

The length of your password can be from 6 to 10 characters.

Click on
CONTINUE
to continue.


Store Web Address

This is where you'll enter a unique store name for your Hike account. A tick suggests that the name you have chosen is available to use.

Note: Your store name must start with a letter, and have at least 2 letters to be validated. The length of the store name can be up to 30 characters long.



You can then choose to create a Hike store with demo data or not. If you'd like to see how Hike works without importing your own products, you can choose "None. Create my trial without any demo data".

By clicking on CREATE MY STORE, you are confirming that you have agreed to Hike's terms & conditions and privacy policy.

Next, we'll learn how to set-up our Hike store to get things underway.

Setting up your Hike account

After creating your Hike trial account, it's time for you to start setting up your Hike store, in preparation for your first sale on the POS system.

First, you will want to complete your General Settings and establish your Tax Rules . Hike makes it easy to configure your store to your specifications.

To do this, open the Store Setup tab in Hike, and click on General .





Here you will find a list of settings that you can complete to customize Hike to suit your store's needs.





To read more on what each of these settings means, head on over to our Store Setup guide, which explains in detail, the various choices you need to make.


To view the Tax Rules, head back to your Store Setup tab, and click on Tax Rules .





Once in the Tax Rules field, you can set up the correct tax rate – and add new ones – as per your requirements.

To read more about Tax Rates and how to add your own tax types, check out our Tax Rules Overview guide.

Subscribe to Hike

Once you have had a run through with Hike, and would like to continue as a paid subscriber, all you need to do is complete your details in the My Account section.

When you've completed your subscription details in My Account, you will have an ongoing Hike account, ready to go!

To get a full breakdown of your My Account section in Hike, visit our My Account Overview page, but to quickly subscribe, simply click on Store Setup on the Hike menu and navigate to the My Account screen.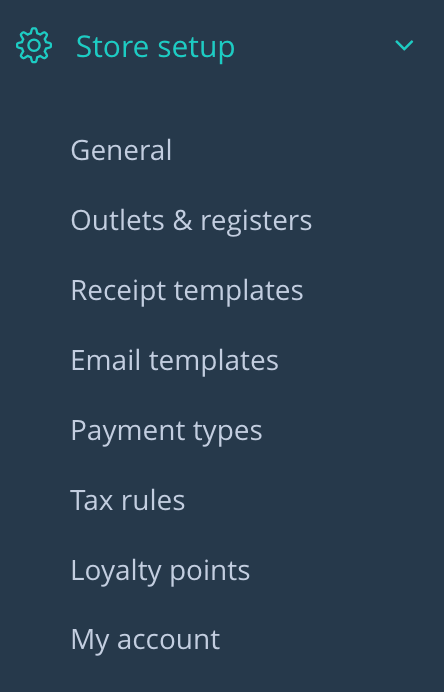 Under the Billing Information section, select ADD CREDIT CARD.

Enter your credit card details and wait for Hike to authorise it.