Tips: Group Products by Category on POS/Sale page
This feature allows users to view the "Product Types/Categories" above the product when a product is added to the cart. This can also be printed on the invoice.
For example, let's say we have a computer as a product and it is assigned to a product type called "Electronics ". So now when we add the product "computer" in the cart, it will display the product type along with the product.
Below is the illustration

This will help users and customers to differentiate the product types in an Invoice/Cart in the highlighted space.
Below is an example of how it would appear in the invoice.

In order to activate this feature, please navigate to General Settings>> search for the option "Display ordered items grouped by type (cart, invoice).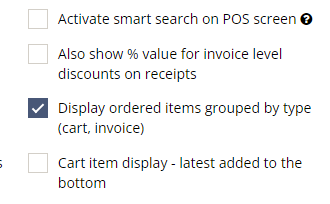 This feature will further enhance the user experience and receipt clarity for the customer.

NOTE: This feature will be available on the Hike Plus plan.
Related Articles

Importing Products via Excel Files

When businesses are moving to Hike POS, rather than having to manually create all data, like products, customers & suppliers. It may be preferable to have all information stored onto a spreadsheet, that can then be imported into Hike. Also, manually ...

Creating & Adding Products in Hike

Your products are the lifeblood of your business, for obvious reasons, and the need to ensure you add each new item into your point-of-sale correctly, is essential. From customizable product tags and descriptions, to setting up things like inventory ...

Bulk Edit multiple products from Product listing page.

The bulk-edit option allows you to update multiple products directly in your Hike Store via the Product Listing page. This can save you a lot of time since you no longer need to manually update products one at a time or export your Product list to a ...

Tips: Change Display Order of Variants on Point of Sale Screen

If you have variant products in your store, Hike offers you two options to order these variants on the POS screen, just to make your life easier while locating the variants. 1. Alphabetical order 2. Order of entry When you select a parent product for ...

Entering New Sales on Hike's iPad POS

Different businesses will undoubtedly have different ways in which they conduct sales. From utilizing functions such as Lay-By to allowing your customers to pay for goods in instalments or enabling on-the-spot discount sales for those specially ...