In Hike, you can customise the loyalty points rewarded at the product level.

When will I use this feature?
Based on the feedback from our clients, you may need it in the following scenarios.

You would like to encourage the sales of a product, so you will reward more loyalty points to your customers when they buy it.

You would like to exclude a product from the loyalty program.

How to customise it?
Please navigate to Products >>> Products, and click on the product of which the loyalty points you want to customise. The field to customise loyalty points is under the Season field on the right of the page.

The default value is 0, which means that the loyalty points will be rewarded based on the settings on the Loyalty points page, which is under Store setup.


You can enter positive values if you want to reward more loyalty points when customers buy this product, or negative values if you want to reward fewer.


After clicking on "SAVE", please navigate to Point of Sale >>> Cash register and click on "REFRESH DATA". Then, it will be applied.

How to exclude product from loyalty points?
In response to valuable feedback from our clients, we've introduced a feature that allows you to exclude specific products from the loyalty points program. This feature gives you the flexibility to customize your loyalty program according to your business needs. Follow the simple steps below to exclude products from earning loyalty points.
You can follow below steps to remove product from loyalty program:
1. Go to the "Products" section on the main dashboard.
2. Find the product and click on the product name to access its details.
3. Within the product details, Tick the option labeled "Disable Additional Loyalty Points". I've attached screenshot for your reference.
4. Look for "Save" button on top right and click it to update the changes.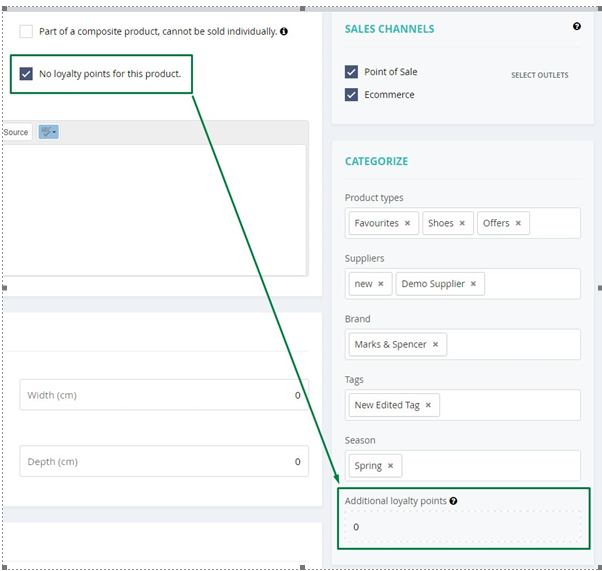 You have successfully excluded a specific product from the loyalty points program. This customization allows you to tailor your loyalty program to meet the specific preferences of your customers.
If you would like to customise loyalty points for products in bulk, please export the products, change the value of the "Loyalty" column, and import it back. Please refer to
Importing Products via Excel Files
. You will still need to perform "REFRESH DATA" after the import is completed.